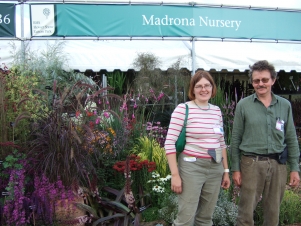 Madrona Nursery was founded by Liam Mackenzie in 1986. A trained Engineer from Sheffield Polytechnic, Liam separately nurtured a special interest in plants and growing. He started realising the dream of owning his own nursery by operating out of his mother's back garden in Lydd, Kent.
Liam's interest and knowledge also spans across designing and building hard structures, especially brick work and traditional oak framed houses. He bought the current Nursery site in Bethersden, Kent in 1990 and built the garden and the characteristic tower, which today hosts the Nursery's tea room. The Nursery moved to this site permanently in 1996.
In 1996, Ylva, a Swedish Landscape Architect, joined the Nursery in a quest to learn more about plants and growing.
Ylva started her career working in Sweden, Finland & Germany. She has worked on a variety of projects, spanning designs of private gardens and urban planning.
Ylva offers a Landscape Design service, drawing on her wealth of plant knowledge aquired at Madrona. For further information, please visit  Ylva's website ylvablidmackenzie.co.uk.
Through the past years the couple has continued to expand the Nursery and built it into a successful family business. The main focus has however remained the same; to offer customers a wide range of unusual trees, shrubs, perennials, ferns and grasses. The Nursery specialises in rare cultivars and species, some unique to the nursery.
The couple has got three sons and two dogs.